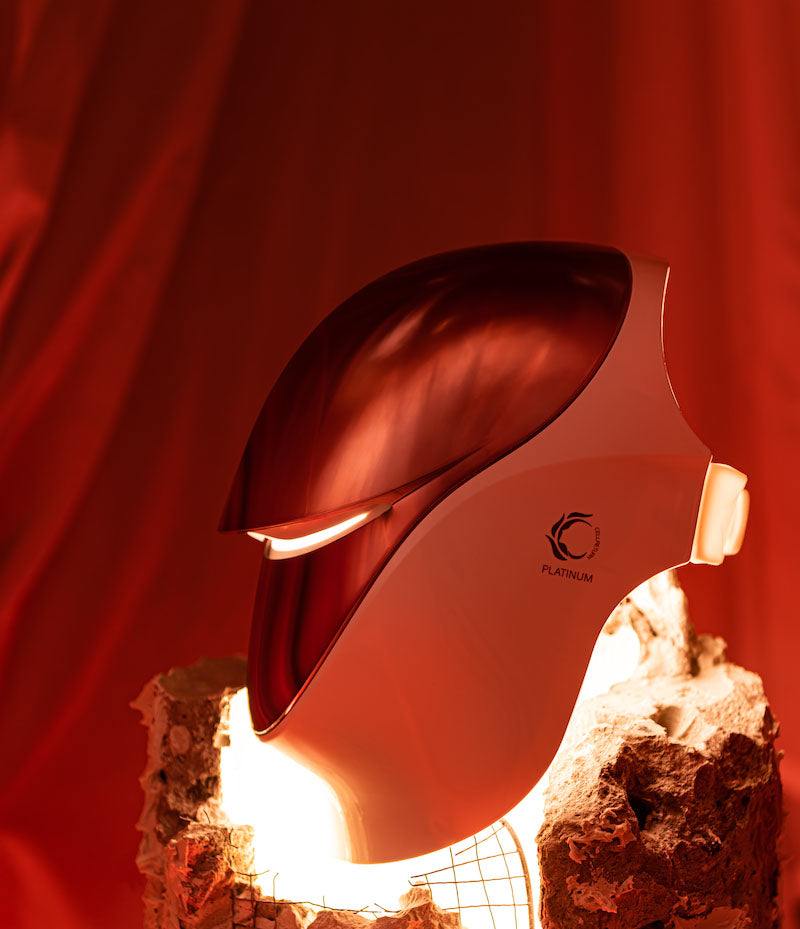 Best LED Light Therapy At-Home Devices
LED LIGHT THERAPY
When you think of NASA you probably think of moon landings, anti-gravity acrobatics, and dehydrated food packets. You probably don't think of the delicate skin on your face and neck; but maybe you should.
HISTORY OF LED LIGHT THERAPY
The scientists at NASA invented LED (light emitting diode) light therapy technology now used in one of the world's most popular at-home skin treatments. 
No, the scientists were not sitting in a lab giving one another facials or discussing how to improve their skin tone. (We don't think they were, anyway.) What they were doing was using LED light therapy wavelengths to promote cell growth in plants and discovering this same LED light therapy promoted accelerated wound healing of scratches or sores on the scientists' skin. 
As a result of their work in the lab, the LED light therapy facial mask was born. What used to be thought of as a wave of the future has now become an easy-to-use LED light therapy at home skin treatment.
Red Light Anti-Aging Skin Treatment
Angela Caglia is a proponent of LED light therapy because it reaches beyond the dermis level of your face and neck to activate cells below the surface of your skin.  Imagine, if it can be used for wound healing in space, think what it can do on Earth.
Active cells are busy producing collagen and elastin, both of which are formed within the dermis. As you know, skin that's alive with collagen and elastin is plumper, smoother, and more radiant!
CrystalLED Face Mask -- Patented Design
One of Angela's top LED light therapy picks is her own patented blue and red CrystalLED Face Mask, the first of its kind LED light therapy to combine rose quartz crystals plus LED.  This LED light therapy mask, when paired with Angela's Souffle Lightweight Moisturizer and Daily Botanical Serum, results in maximum skin renewal, along with the reduction of acne-causing bacteria through the anti-acne blue LED light treatment wavelength.
The LED therapy mask is designed for at-home use or to enhance the results of one of Angela's age-defying skin treatments. This travel-friendly, femininely
designed device reduces the appearance of fine lines and wrinkles and
reduces surface bacteria with its blue and red LED light therapy treatment wavelengths. Beautiful on the face, this flexible led face mask delivers the same efficacious, soothing, and luxurious spa-grade results garnered by Angela's A-list clientele.
LED Light Therapy

The Angela Caglia CrystalLED Face Mask is a wearable, flexible, light emitting
diode (LED) and rose quartz crystal facial mask. It employs
LED phototherapy to produce a safe and steady stream of led lights to
treat facial wrinkles and lines (red light). The mask is crafted of a
flexible medical-grade silicone material embedded with LED to
generate and emit skin rejuvenating light. When worn correctly, the
mask covers the entire face. It is held in place with adjustable Velcro
straps, allowing for a 'hands-free' experience.
Understanding Aging Skin | LED light therapy treatments
With age, the skin experiences a loss of collagen (at the rate of about 1%
per year starting at age 30) and elastin due to the normal aging process,
environmental damage, inflammation, and sun damage. While we all age
at different rates, one thing remains the same: aging skin appears more
wrinkled and less plump and hydrated compared with more youthful skin.
Aging skin, which is thinner than younger skin, also tends to display signs
of discoloration, dryness and rougher texture.
One of the best and easiest ways to keep the skin healthy, firm, and reduce inflammation is with LED light therapy treatments, which are clinically proven to reduce wrinkles. This mask delivers a dose of skin-boosting red light, noninvasive solutions for stimulating collagen and elastin production.

The expertly designed Angela Caglia CrystalLED Face Mask boasts
dual wavelengths—630nm anti-aging red and 465 anti-acne blue LED
treatment wavelengths-- for the best anti-aging and anti-acne benefits.
Finally, the days of clunky, space-age LED light therapy masks are gone, and in their place comes this high performance wellness device that delivers serious results.
LED light emitting diodes light therapy is a clinically proven technology with a broad range of benefits to treat myriad skin conditions, including to treat acne.
RED LIGHT THERAPY
Increases collagen production

Promotes healthier, younger-looking skin

All natural. No pain, side effects, or downtime
BLUE LIGHT THERAPY
Clinically proven to treat acne and improve the appearance of skin lesions.
LED LIGHT THERAPY WORKS!
See Skin Concerns and Benefits Below From Clinical Testing
How Long Does It Take To Work?
Consistency is key as you'll see from the results of the clinical testing below.  For the maximum benefits, it is recommended at least 8 weeks, with 3 to 5 times per week use at 10 minutes per treatment session.
CLINICAL LED ANTI-AGING STUDIES:
95% of participants said skin tone improved, texture, firmness, elasticity
82% of participants saw improved skin smoothness
91% of participants saw brighter skin tone
81% saw improvement in periorbital wrinkles
*Results based on study of 119 participants over the course of 12 weeks.
CLINIICAL LED ANTI-ACNE STUDIES
89% of participants said lesion count reduced after 8 weeks.
77% of participants said improves mild to moderate acne.
ROSE QUARTZ -- HISTORY AND BENEFITS
Known as the "love stone," the rosy-hued rose quartz crystal has been treasured for thousands of years. It might not be an exaggeration to claim that the stone has been valued since the dawn of time – crafted jewelry from the crystal was found in the remains of Ancient Mesopotamia dating back to 7000 BCE. The Ancient Greeks and Egyptians hailed the magical powers of the stone, celebrating it through myth and ritual. It was believed by the Greeks to imbue its owner with a sense of love and by the Egyptians to ward off aging. The Romans claimed that it was the crystal of Venus, the goddess of love.
We especially love that this light therapy mask doesn't require any downtime. Creating space to take care of your skin shouldn't become so time-consuming that it takes you out of your entire day!
WHAT'S INCLUDED IN YOUR CRYSTALLED PURCHASE:
1. Soft, flexible medical-grade silicone
2. 132 total RED anti-aging and BLUE anti-acne LED lights
3. Dual Wavelengths: 630nm anti-aging RED and 465nm anti-acne BLUE LED treatment wavelengths
4. A feminine design
5. Controller
6. Power supply and country-specific adaptors
7. USB C to USB A connector
8. Head straps
9. Travel pouch
The Angela Caglia CrystalLED Face Mask makes it possible to get a healthy, natural glow by simply dedicating 10 minutes to LED treatment, 3-5 times a week. After 6-8 weeks, you and everyone around you will see the results no matter what your skin conditions. 
LED red and blue Light Therapy at Home
When you're on-the-go and need to re-energize between running the kids from soccer practice to ballet—or when you've simply caught some alone time and you're ready to invest in the self-care you deserve—the CellReturn Platinum LED Face Mask is one of your best friends. 
This LED (Light Emitting Diode) face mask features wireless touch and wireless charging technology, which makes it uber easy to use whether you're on-the-move, or comfortably settled into your favorite chair at home. 
The benefits of this revolutionary LED light therapy CellReturn mask are myriad. This beautiful, ergonomic mask is where art meets beauty. It is packed with first class red light and infrared technology including different wavelengths for various treatments. This one wireless face mask offers red light, blue light, and pink LED wavelengths to customize treatments for extraordinary results:
Helps reduce fine lines and wrinkles

Improves elasticity

Boosts collagen production

Reduces puffiness

Calms inflammation
This LED light therapy mask was made in Korea by the #1 selling LED mask manufacturer in the world. 
Invest in the Radiant Skin You Deserve
Not everyone has time to plan a spa day 3-5 times a week. Your life is full of engagements with family, friends, and colleagues. 
Fortunately, with LED blue and red light therapy you can achieve spa level professional results at home when you use a high-quality LED light therapy mask to soothe your nerves and stimulate your cells. These products have been shown to lessen the appearance of age spots and fine lines and wrinkles, increase skin elasticity, and aid in the regeneration and rejuvenation of the skin. 
Make LED lights and light therapy a part of your daily routine without any side effects by including one of these at home led devices.
For the ultimate fire and ice at home facial treatment, check out our latest blog on cryo therapy here.
You May Also Like:
How To Make Your Skin Glow Naturally At Home
The Benefits Of Facial Gua Sha
Rose Quartz Skincare And Healing Benefits