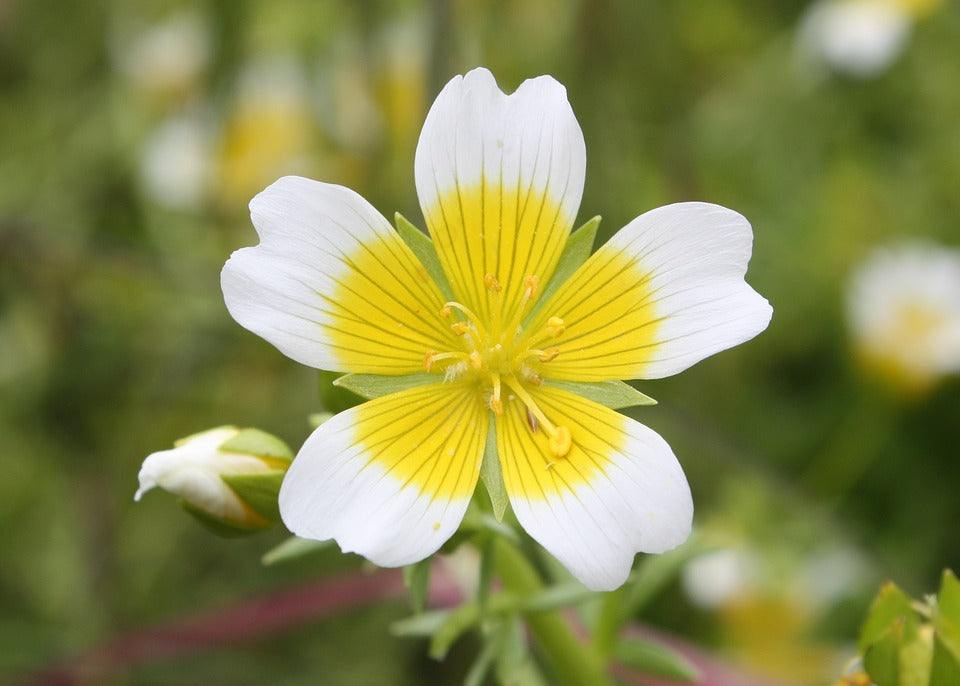 Meadowfoam Seed Oil: A 26 year expert Esthetician's hero oil in her clean beauty skincare line.
Meadowfoam Seed Oil
Have you ever tried a face oil to soothe and deeply moisturize your skin? Although it sounds counterintuitive for clear skin, in actuality, it's a game changer! After all, it is the original moisturizer from the beautiful goddess Cleopatra, right? While some oils are greasy and clog pores, Angela discovered the little known dry oil that absorbs easily, and fell in love with the benefits so much while using it on her A-list clientele that she created a line around it.
Meadowfoam seed oil is made from a wildflower native to the Pacific Northwest, Limnanthes Alba. Once harvested, the cold-pressed oil is extracted from the flower. This oil has qualities that make it the perfect addition to your organic skin care products. In this article, we will show you its benefits and curative ingredients. Then, we will detail how to use the oil for beautiful healthy skin. 
What are the Benefits of Meadowfoam Seed Oil for Skin
 Skin can easily become dull and lose moisture, especially beginning in the mid thirties. The weather, lack of humidity, and even genetics cause skin to change and become drier. However, there is no need to settle. One Meadowfoam Seed Oil  benefit is that it's the same molecular structure as our own sebum. It also has one of the highest amounts of natural ceramides. We lose both of these as we age and they are what mainly protects our moisture barrier. This keeps skin plump and youthful. As an added benefit, this oil is not only a sustainable crop but it also is one of the most stable oils in the world. As a result, it keeps the natural formulas stable longer.
Meadowfoam Seed Oil also balances sebum production. Sebum is the skin's natural oil. Too much of it causes acne, but not enough of it dries out the skin. This oil is popular because it balances the skin without being heavy or oily. Likewise, it reinforces the lipid barrier, or the outermost layer of skin. Meadowfoam Seed Oil protects your skin from toxins, pollution, and even slows the aging process. There are so many reasons to love this oil. And because Angela has been using it on her clients for years, it has such a strong reputation, as one of the world's best estheticians we can't wait for more to learn about it.
What does Meadowfoam Seed Oil Contain
Every product in the Angela Caglia line contains seed oil from the Limnanthes Alba Flower. The oil is named Meadowfoam because of the large white flower that resembles white foam coming from an ocean wave. It is packed with anti-aging benefits. Meadowfoam Seed Oil is high in Vitamin C and E, which are antioxidants known to protect skin from free radicals. Similarly, it also contains omega-9 fatty acid. This protects against sun damage and UV radiation, making it a great addition to your sunscreen. Additionally, it has linoleic acid, which encourages cell turnover. This helps to brighten skin while reducing fine lines and wrinkles. Lastly, Meadowfoam seed oil also contains oleic acid. It protects the outer layer of skin from damage. Although this product is beneficial for all skin types, it is especially useful for those with dry, sensitive skin, rosacea, and eczema.
How to Use Meadowfoam Seed Oil
This face oil is safe to use daily and can easily fit into your skincare routine. We recommend using it at the end of your routine if you are using it in its pure form. That way, it locks in moisture and acts as a protective seal.  However, we have infused meadowfoam seed oil as a hero ingredient in our soufflé moisturizer to deeply nourish your skin barrier all day. The list of ingredients in the Soufflé Moisturizer also include Aloe Vera, Kosher Goat Milk, Vitamin C and Willow Bark which work synergistically together to give an immediate and long term glow.
Meadowfoam Seed Oil is also in our daily botanical serum to keep your skin fresh and radiant. The USDA certified organic botanical serum is made with anti-aging ingredients like Rosehip Oil, Sea Buckthorn Oil, Ylang Ylang and Frankincense. We recommend applying the Souffle Moisturizer first and then pat the Daily Botanical Serum lightly after. Or use the Souffle Moisturizer during the day and Daily Botanical Serum at night as your luxury face oil.
Make sure you get every Meadowfoam Seed Oil benefit by working it into your skin with a rose quartz face roller. The ancient Chinese influenced roller massages the oil deeper into the skin for an enhanced experience. It also reduces puffiness and dark circles. You can use it before bedtime to promote relaxation and seal in nourishment as you sleep.
To learn more about Angela Caglia and her products, read our ingredient story. 
Check out our latest LED blog post
here.
You May Also Like:
How to Create the Perfect Skincare Routine
How to Make Your Skin Glow Naturally at Home